From Risk to Opportunity 2008: Insurer Responses to Climate Change
Mills, Evan. April 2009

[PDF]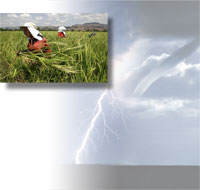 Summary
In response to the specter of climate change, society is changing the way it constructs buildings, transports people and goods, designs products, and produces energy. Consumers, as well as regulators and investors, are eager to see insurers do more to provide products and services that respond to the "greening" of the global economy while safeguarding shareholder value, improving disaster resilience, and otherwise being proactive about the climate change threat. A substantial vanguard of insurers are doing just that, taking bold steps to adapt their business models to the relevant risks and opportunities.
This report documents insurer activities spanning green products and services, financing and investments in climate-change solutions, climate research, disaster resilience, in-house energy and carbon management, climate-risk disclosure, and the public policy discussion on climate change. The report chronicles ways in which insurers are embracing a more sophisticated approach to the issue, increasingly recognizing it as one of "enterprise risk management, cutting across the domains of underwriting, asset management, and corporate governance.
Based on a review of hundreds of source documents, plus a direct survey of insurance companies, the report identifies 643 specific activities on the part of 246 insurance entities from 29 countries (as well as 34 non-insurer collaborators). This represents a 50% year-over-year increase in the level of activity compared to that observed through 2007. These entities collectively have $1.2 trillion in annual premiums (more than a quarter of the global total) and $13 trillion in assets, while employing 2.2 million people. While a major segment of the global insurance industry is now engaged in the climate change discussion, most companies thus far have a very modest level of activity.
In addition to the raw growth in the number of activities, insurers are "drilling deeper" with sophisticated and targeted product design and initiatives more directly focused on spurring the use of new technologies and practices to combat climate change. Strategic developments in 2008 include increased engagement of trade allies (actuaries, catastrophe modeling firms, intermediaries) and a considerable uptick in the engagement of insurance regulators, particularly in the United States with the release of a major policy paper by the National Association of Insurance Commissioners and follow-on work concerning climate risk disclosure.
The report was commissioned by Ceres, a national coalition of investors, environmental groups, and other public interest organizations working with companies to address sustainability challenges such as climate change. Ceres also directs the Investor Network on Climate Risk, a group of 78 institutional investors from the U.S., Europe, and Canada who collectively manage over $7 trillion in assets. This project was sponsored by grants from Blue Moon Fund, The Kresge Foundation, The Pew Charitable Trusts, Rockefeller Brothers Fund, and Rockefeller Family Fund. The original compilation of case studies was performed by Lawrence Berkeley National Laboratory, and sponsored by the U.S. Department of Energy and the U.S. Environmental Protection Agency.